Chicken Basics Dog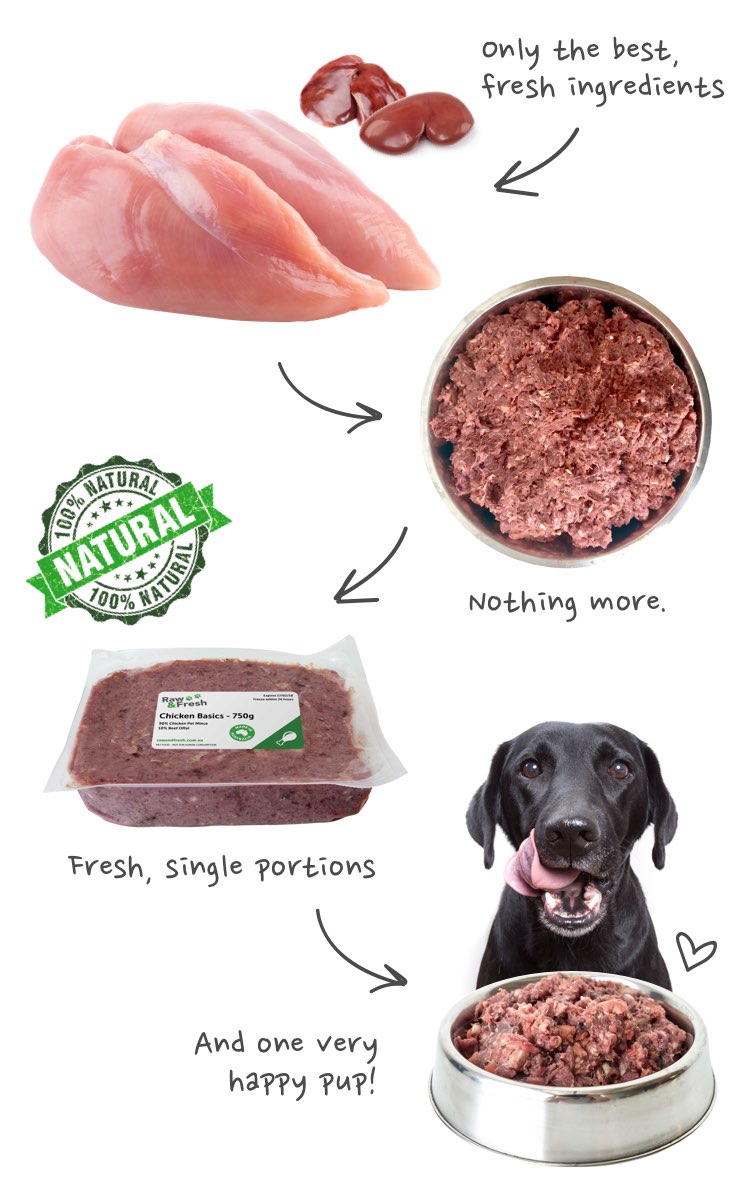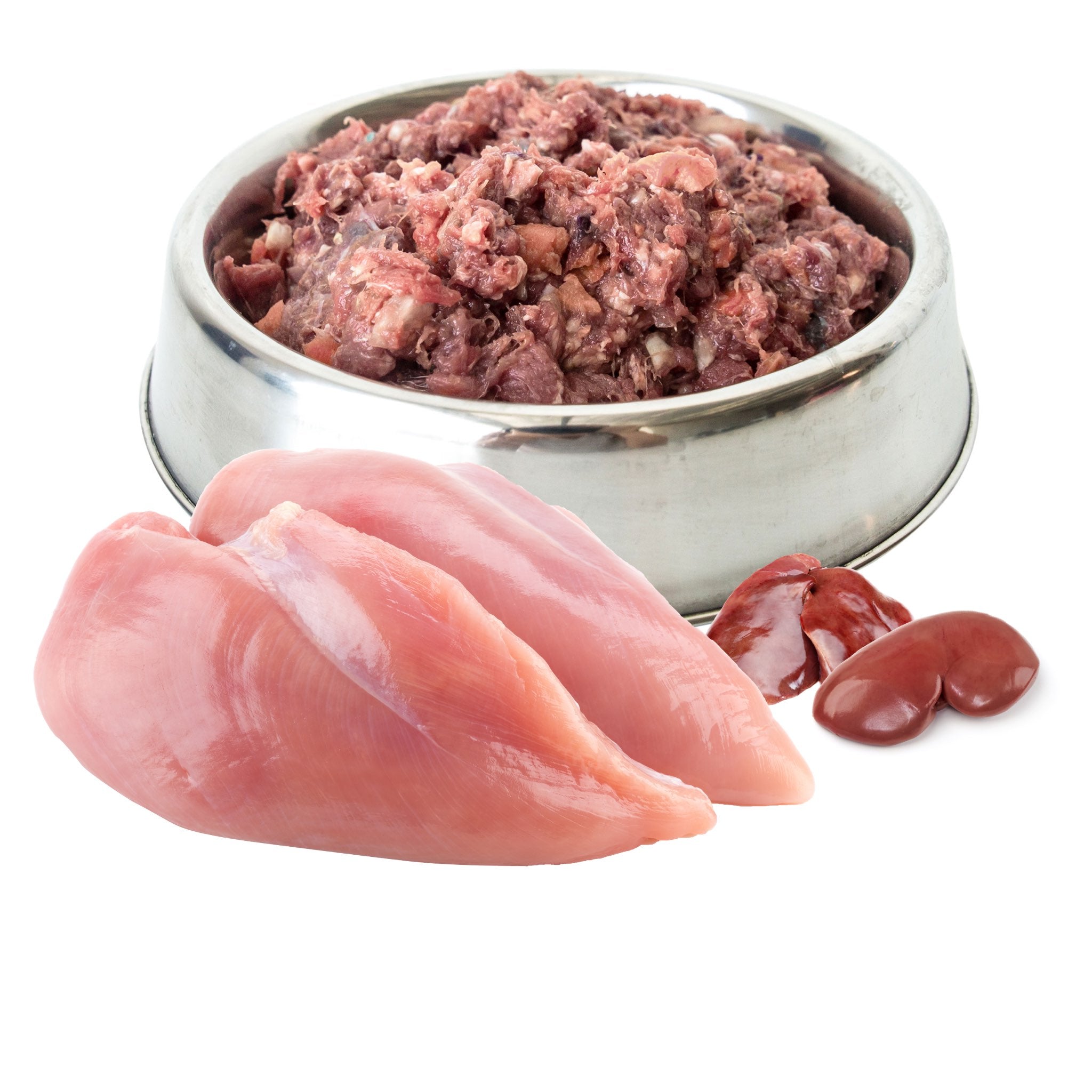 90% Chicken Mince

10% Offal
SWIPE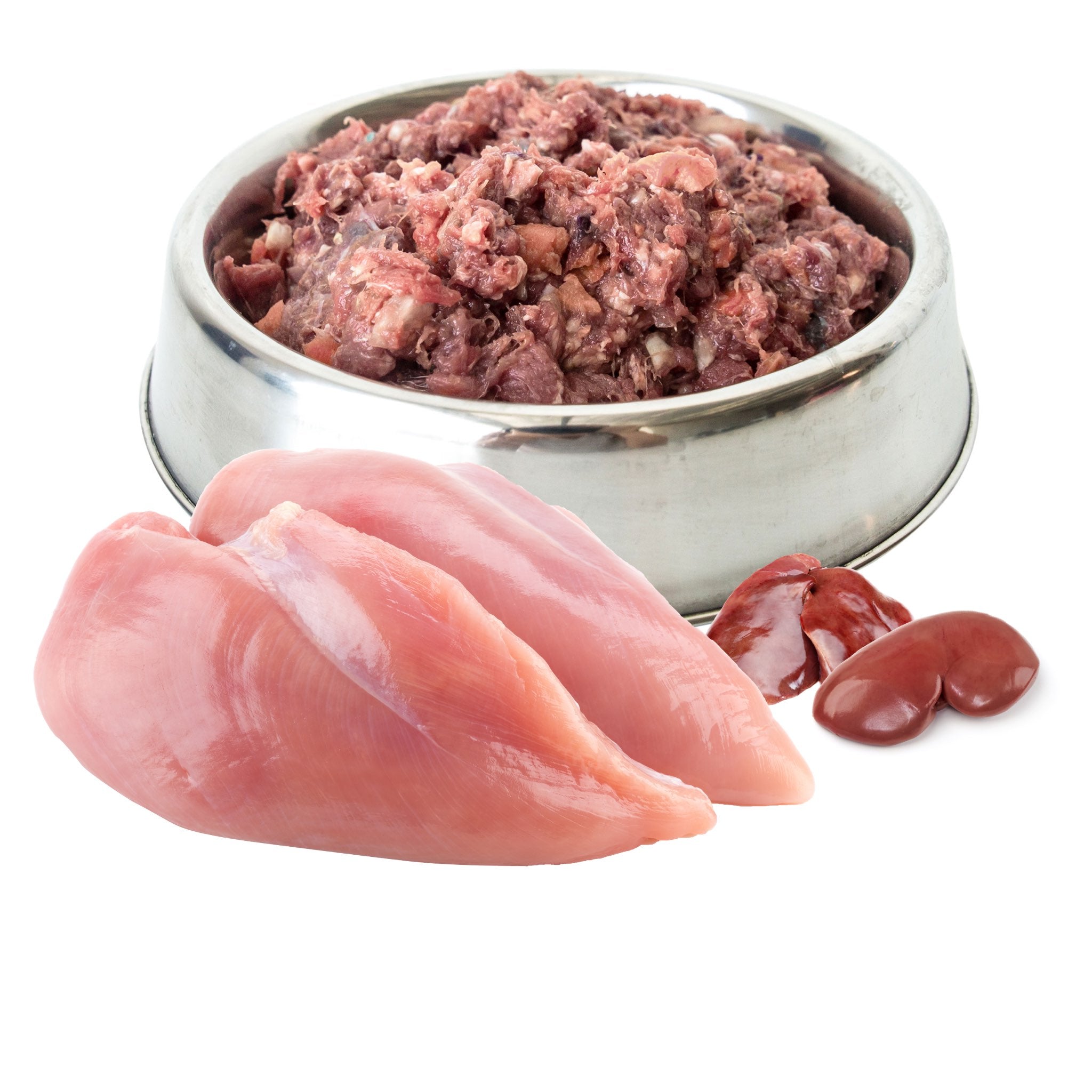 Ready-Made Basics Recipe
As part of a balanced Raw & Fresh diet, our Chicken Basics Recipe is created according to common BARF (Biologically Available Raw Food) principles, containing balanced ratios of muscle meat and offal.
Our formula is lovingly crafted with 10 years of experience feeding thousands of pets. We have satisfied a wide variety of diet concerns and enriched the lives of our furry friends with over a million meals delivered.
Who Should Feed Chicken Basics?
Our Basics recipes are designed for raw feeders who wish to use our meals as a base, but also want to add variety to their diets with separate bones, treats and supplements. They're a more traditional Raw & Fresh meal plan for those who feel comfortable with raw feeding.
Compared to the Essentials recipes, Basics recipes contain no vegetables. These recipes make an ideal base for an elimination diet to isolate sensitivities. The meal composition is simple and ... basic, allowing greater flexibility with a more customised diet plan.
If you're looking for a Complete and Balanced recipe that follows AAFCO guidelines, try our Complete Beef for Dogs.
This pre-made meal has a balance of 80% muscle meat (including 5% lamb heart meat for extra taurine), 10% ground bone, and 10% offal, made up of highly nutritious secreting organs.
We also have Bulk Chicken Basics available in 2.5kg packs.
Keep reading for recipe comparisons, dietary, feeding and shipping information.
All Natural Australian Produce
Every pack is freshly-made to order and is:
All natural
Australian made
Human grade
Grain free

Preservative free
Hormone free
Ethically sourced
Delivered fresh, not frozen
Human-Grade Ingredients
We only use the highest-quality raw ingredients sourced from human-grade suppliers. Our ingredients are sourced from the same suppliers restaurants and markets use for your food. No additives, preservatives or fillers. Just the biologically appropriate nutrients they need, as nature intended.
This is broken down into:
Lean Mince
Our pet mince component is high-grade muscle meat, with 5% lamb heart. Heart meat is rich in taurine, which is an essential amino acid that promotes normal vision, digestion, heart muscle function and maintains a healthy immune system.
Offal
Our organ meat is made exclusively from beef liver, kidney and spleen. These are known as "secreting organs", which carnivores value for their nutrient density.
Offal forms 10% of each recipe and is packed with essential vitamins, minerals and amino acids:
Phosphorus
Calcium
Magnesium
Potassium
Iron
Zinc
Copper
Vitamin A, B6, B12, D, E and C
Taurine
Thiamin
Riboflavin
Niacin
Pantothenic Acid
Folic Acid
Selenium
Biotin
Most importantly, offal is a wholly-natural source of nutrients, unlike the synthetic ingredients added to most mass-produced pet foods.
Bone Content
Our chicken recipes all contain 10% ground bone, mixed with the meat content. Bone content provides valuable calcium, with additional nutrients provided by the marrow and cartilage.
We also have an AAFCO-standard Complete Beef recipe which is Complete and Balanced for all life stages.
Ingredients
Chicken Muscle Meat, Chicken Frames with Bone, Beef Liver, Beef Kidneys, Beef Spleen, Lamb Heart.
Nutrition Panel
Guaranteed analysis per 100g
| | |
| --- | --- |
| Metabolisable Energy | 810kJ |
| Protein | 18g |
| Fat | 14g |
| Crude Fibre | <1.0g |
| Moisture | 61.9% |
| Ash | 0.7g |
| Calcium | 1.46g |
| Phosphorus | 810mg |
Production & Food Safety
Our Basics Range mixes are made fresh to order in our hygienic commercial kitchens, with very strict sanitary measures that include a full sanitary scrub-down between production runs.
To preserve the nutrient value and freshness of our foods, we recommend observing careful food safety practices. Always wash your hands and bowls after feeding.
Packaging
We package our recipes inside an airtight barrier film, tightly vacuum-sealed, removing most of the oxygen to keep our products fresh longer. The packs are easy to cut open and dispose of.
Shelf Life
We use no preservatives whatsoever. Not even the supposedly "natural" ones commonly used by other pet food brands, which often have an unhealthy level of sodium. Artificial preservatives have been shown to cause serious harm to pets both short and long term. Preservative use is responsible for a great number of product recalls in the pet industry and we avoid them altogether.
We recommend you freeze all products upon receiving your delivery. You can put aside any meals into the fridge that you intend to feed within the first couple of days.
Our shelf life is:
Frozen: 3 months
Sealed Pack in Fridge: 3-4 days
Opened Pack in Fridge: Feed same day
Delivery
We make fresh to order, so all good things take time. We collect all orders placed in a given week by Sunday midnight, then order fresh produce to make and deliver the following week.
You don't need to be home to receive your delivery. We use refrigerated couriers for end to end, temperature-controlled delivery. We seal your order in fully-insulated boxes with ice packs to keep cool for up to 10 hours after we deliver to your door.
Please take the time to read our delivery info page for details. You can also check delivery coverage to your postcode on this page.
How Shipping Works
Place your order
Immediately receive your confirmation email with ETA details
Wait for the Monday following your order when fresh produce is ordered
Delivery is scheduled for the date mentioned in your ETA email, the week after you order
An SMS with a tracking link is sent in the evening, the night before delivery
Your yummy food is delivered to you!
Note you can also leave shipping instructions at the cart review step before checkout.
Feeding Instructions
If you have a puppy, be sure to read our puppy feeding guide, with handy tips for getting your puppy transitioned to a healthier raw diet. This guide also includes special daily feeding charts to suit the age and weight of your puppy.
For adult dogs can also read our general raw feeding guide for dogs to better understand daily feeding recommendations for adult dogs.
For those making the transition from a different diet, be sure to read our transitioning your dog to raw feeding guide.
We also have a meal planner for dogs to help calculate values for multiple pets.
Dietary Recommendations for Chicken Basics
Our Chicken recipes are best fed with the following considerations in mind:
With a higher fat content than other recipes, they're ideal for healthy, active dogs without underlying digestive concerns.
Already containing 10% ground bone, you will typically feed less bones from other sources.
If you notice your dog's stools are too white or they become constipated, they may need to reduce their bone ratio. 10% is the generally accepted standard, but some dogs may benefit from alternating this recipe with Beef or Roo to reduce this ratio, based on their individual needs.
As with all new diets, you should give your dog a couple of weeks to adapt to the new regime. They may have runny or softer stools during this transition, so please take the time to read our transition guide to help you along.
If your dog is sensitive to any of the ingredients in this recipe, you may need to trial an elimination diet using our other raw food products to identify the culprit.
Reach out anytime to our customer care team if you need guidance, bearing in mind that our recommendations are provided without a physical examination and should not be considered a replacement for consulting a medical professional.
Special Offer
Use the code STARTSHIP at checkout for FREE SHIPPING when you spend over $30 on your first order.
Alternatively, you can use the code GETSTARTED for 10% off your first order.
You can only use one code per checkout.
These coupon codes are added during checkout, so discounts will appear after the code has been entered into the discount input box, just before the payment step.
Looking For Bulk Sizes?
We also have this product in 2.5kg bulk packs.